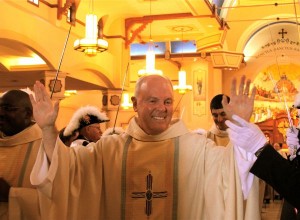 Some people write books or articles.  I write my homilies, and an occasional article.  At times I agonize over them and discard or rework them ad nauseam, probably much like more serious writers.  Over the years I have discovered that I work out my thoughts, opinions and theology by writing.
And, I love homiletics.  Preaching allows me to spend more time with Jesus Christ.  By praying with Scripture and preaching about Him, I come to know Him better, and to love Him more, and see how much more He loves me.
God has blessed me in many ways.  He provided me with an interesting life, a wonderful, loving wife and wonderful children and grandchildren.  Cynthia is in Heaven now.  Meanwhile, God has given me the life, health, time and faith to continue to serve Him and His Church, even late in life, as a Catholic priest.  I hope you enjoy this website as much as I have enjoyed helping to create it.
God bless you,
Fr. Mark Hamlet
Sacred Heart Catholic Church
Austin, Texas
February 2013